WELCOME TO DEGRASSI EVOLUTIONS
ABOUT THE DEGRASSI EVOLUTIONS WIKI
WELCOME TO Degrassi Evolutions Wiki.
This wiki is a fan-fiction wiki that
Degrassian4E
created on the
FanFiction.net
You can help the wiki grow by editing pages and adding information to them if you want. And if you are a fan Thank You!
Story of My Life
,
Bambi
and
Aria
relationship face trouble when Aria gets an offer from her parents she can't refuse.
Hayley
tries to move on with her life without
Zig
, but she gets a major shock of her life.
Dakota
gets an offer to live with his
birth
parents
in Arizona, but that means leaving
Tristan
and his friends at Degrassi behind. As prom and graduation approaches
Alli
's reached her goal, going to MIT! and
Dallas
deciding to return to Degrassi for another victory lap, which means Dallas will have to say goodbye to Alli, but Dallas can't bare to end it with the girl he loves.
THIS SEASON
SEASON 3 of Degrassi Evolutions -- All new faces, brand new attitudes, fresh new start, it's a whole new Degrassi Evolutions!
FEATURED CHARACTER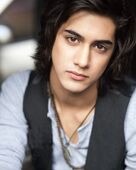 Edward Worthington is a new junior (Grade 11) at Degrassi Community School. Confident, charming, mischievous, and fresh from a prep school in England, Edward knows he'll have Degrassi in the palm of his hand. Edward's father just sends him to different prep schools all over the world since he gets expelled a lot, so dropping in on a public high school will be anything but a challenge. Stylish and sophisticated, Edward still never looks like he's trying. In fact he just seems to breeze through life, but underneath all his swagger, Edward is just a teen looking for love and acceptance from his father. And with him getting expelled from his one of many boarding schools doesn't help at all. Especially since William Worthington is a popular businessman about to run for mayor, who won't let his reckless son get in the way. But Edward loves milking his rep as a troublemaker and arrives at Degrassi ready to stir things up. Edward loves using his magnetic personality and beseeching eyes to get people to do what he wants. Edward has never been afraid of indulging in the excesses of his high life – so far he just hasn't been caught. He really just needs someone to connect with, but how many hearts will he break in the process?

For more info on the character, see Edward Worthington