Ashli Fellom
is a senior (Grade 12) at
Degrassi Community School
. As being a teen isn't hard enough, being a teen mom makes it even more stressful. When Ashli was 13 she got pregnant, she gave birth to her daughter,
Coey
, at 14. whose father is
Cody Sampson
who used too attend Bardell High School, but dropped out. Being shunned by her parents and being kicked out because she was pregnant she lives with the
dad
of her toddler daughter Coey Fellom, Ashli never gives up though, she works hard. She's down to earth, but gets judge by a lot of people. Her best friend Dakota tries his best to help her. Unafraid to speak her mind Ashli is ready to make a new identity for herself at Degrassi, but that's easier said than done. After finding out her
mother
has breast cancer she and her parents are rebuilding their relationship as she also moved back in with them.
She is best friends with Dakota Harris, they were best friends before starting high school, Hayley Michaels and Hadley Mills and is friends with Danny Smith who she has feelings for, Beck Samuels, Heather Anderson, and Tori Santamaria. She was also friends with Campbell Saunders before he committed suicide. She is currently in a relationship with Danny Smith. She has a dislike for Taylor Watson. Ashli is portrayed by Debby Ryan.
Character History
Edit
Appearance & Style
Edit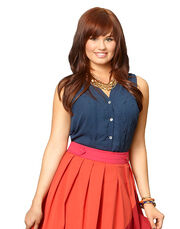 Junior Year
Edit
Ashli usually has her red hair in bangs and usually curls her medium-length hair, but can be seen with straight hair sometimes. Her outfits are always colorful, and she wears both dresses and blouses, jeans, tights etc. Ashli also wears boots and sandals, and she is very rarely seen wearing sneakers.
She is a teen mother.
She was kicked out of her parents house when she got pregnant.
She was best friends with Dakota many years before, both of them attended Degrassi.
Ashli is regularly judged for being a teen mother.
Ashli is the second to have a child before their appearance. The first is Mike Dallas.
Ashli is the second female to go through teen pregnancy. The first was Tori Santamaria.
(To Austin and Zac): "Hey." (first line)
Relationships
Edit
Main article: Cody-Ashli Relationship
Main article: Mason-Ashli Relationship
First Relationship:

Start Up: Don't Panic (204)
Broke Up: Sweet Child O' Mine (209)

Reason: Ashli got a voice mail and text from Danny and Mason saw it. He got angry and physically hurt Ashli by grabbing her and slamming her against a wall.

Second Relationship:
Third Relationship:
Main article: Danny-Ashli Relationship